About Me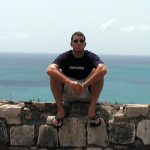 I'm a father, vegetarian, software developer, and triathlete living in Sarasota, Florida.
I've been developing web applications and desktop software professionally since 2000. My specialty and passion is developing the back-end systems that drive robust applications, both as a software programmer and as a consultant/analyst.
Most notably, I've written two Firefox extensions (links below), was co-founder of GamertagDatabase.com (sold in 2005), was the lead developer of MyFamilyCanHelp.com, which helped those displaced by Hurricane Katrina find temporary housing, and have made contributions to several open-source projects on GitHub. I am also the founder of two Internet technology networking groups –  the Providence Web Development Lunch Hour Group in Providence, RI (organizer position relinquished in Dec 2007), and the similarly named Sarasota Web Development Meetup Group in Sarasota, FL.
I was most recently employed at Panoptic Development, Inc. as a Sr. Software Engineer, where I helped our clients simplify the process of software development by using a hybrid project management style that mixes Agile and traditional methodologies. We worked exclusively with Open Source technologies.
Elsewhere on the Internets
Software and Open Source
Community Profiles
Portfolios and Business Profiles
Training/Racing Profiles