About Me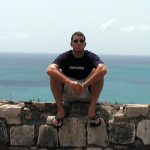 I'm a father, vegetarian, software developer, and humanist living in Sarasota, Florida.
I've been developing web applications and desktop software professionally since 2000. My specialty and passion is developing the back-end systems that drive robust applications, both as a software programmer and as a consultant/analyst.
Most notably, I've written two Firefox extensions (links below), was co-founder of GamertagDatabase.com (sold in 2005), was the lead developer of MyFamilyCanHelp.com, which helped those displaced by Hurricane Katrina find temporary housing, and have made contributions to several open-source projects on GitHub. I am also the founder of two Internet technology networking groups –  the Providence Web Development Lunch Hour Group in Providence, RI (organizer position relinquished in Dec 2007), and the similarly named Sarasota Web Development Meetup Group in Sarasota, FL.
I work at YouEarnedIt, an employee experience company in Austin, TX., as a Software Engineer, where I help create happiness at work.
Elsewhere on the Internets
Software and Open Source
Community Profiles
Portfolios and Business Profiles